Knife BRIK is the gift wrapped in concrete that you need to smash to open. Each BRIK contains one of many high-quality folding pocket knives, uniquely selected for each batch. Plus each BRIK batch 14 includes a special code slip inside that can be entered online for a chance to win other prizes, including our grand prize. 
An awesome gift for guys, dads, military, bachelor parties, that knife-obsessed co-worker, or just about any friend that likes knives and breaking things. Customize your label (for free) with whatever the hell you want!
What's the difference between Level 1 and Level 2?
Brik Batch 14 includes two different levels to purchase.
Level 1 is our classic BRIK that includes a variety of quality pocket knives and of course, chances to win prizes (check them out!)
Level 2 is our newest BRIK that now includes even higher-quality folding knives inside. Not only that, but Level 2 unlocks even more chances to win our prizes!
Kick-Ass 110% Satisfaction Guarantee
If you're not satisfied in any way, we will refund you 100% of your money, plus an extra 10%! No questions asked. No worries. Seriously. 
Here's How It Breaks Down:
Smash Your Brik™ to Bits
Check Out Your New Knife!
Enter Your Code Online to Win Prizes!
What Do I Get? 
Feel good inside because a $1 of your purchase will be donated to Big Brothers Big Sisters of America. 
A chance to win multiple badass prizes - see the odds and prizes here.
One high quality pocket knife from well known name-brand companies. 
Want to see our knives? 
Level 1 includes:
M.11 - Scout Linerlock
SOG - Traction
Kershaw - Tarheel
Browning - Linerlock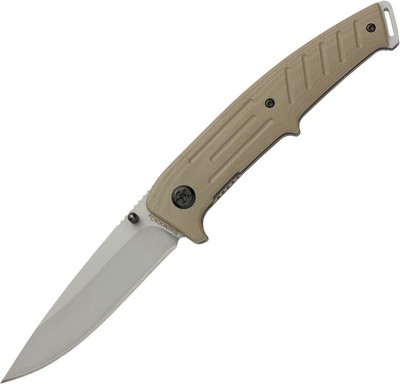 Gerber  - Moment
Smith and Wesson - Extreme Ops
Marser - Kampfer 14 - Lockback
Kershaw - Mixtape
Ka-bar - Warthog II
Besa - Linerlock
Camillus - Arvo
CRKT - Offbeat 2
Buck - Bones
Kershaw - Payload
Gerber- Haul Plunge
Smith and Wesson - Magic
Looking for even better knives? Check out BRIK Level 2!
What Are My Label Options? 
Choose your own label. Either:
BRIK (standard)
Happy a Smashing Christmas!
Merry F*ucking Christmas!
Or add CUSTOM LABEL for FREE! Please write your message in the "Notes" section at checkout. Limit in black box: 8 characters. Limit message below black box: 200 words. 

As Seen In
Great
Order delivered fast, only complaint is I subscribed for the new batch only to never get an email